(Extracted from Hike Aid 3, dated May 2016)
---
Introduction
Leadership by boys is a key premise of Scouting. This applies to outdoor activities in the same measure that it applies to the balance of the Scouting program. Developing this leadership should be a continuing process in a Unit.
Specific information about dates, locations, fees, and reservations for this training is published in The Trail Head, Scouter's News, the GLAAC-HAT web site (http://glaac-hat.org/), and the Council's web site (https://www.glaacbsa.org/).
---
Junior Leaders Backpack

Camping and hiking are fun; developing the skills and learning safe and courteous practices are a necessary part of these activities. This most effectively occurs when it is the junior leadership in the Unit which provides the instruction.
The objectives of this High Adventure training are:
to provide Scouts and Venturers with a basic understanding of how to plan and conduct outdoor activities;
to give them information that they can use to teach other Scouts and Venturers safe and effective backcountry practices; and,
to stimulate their participation and leadership in a High Adventure Program.
While the emphasis of this training is on leadership utilizing backpacking as the tool to teach the lessons, the training generally applies to all types of outdoor activity. This High Adventure training consists of a Saturday seminar and a weekend field trip in the local mountains.
The seminar is conducted as a series of demonstrations and discussions. This training provides an overview of the basics: leadership; planning and preparation; risk and safety; equipment and clothing; food and cooking; mountain navigation and travel; outdoor courtesy; weather and climate - the necessities for safe and enjoyable outings. Emphasis is placed on the junior leader's role and responsibilities.
The weekend field trip provides the opportunity to practice the skills and use the equipment which are discussed at the seminar. This trip will be a backpack of about 10 miles, round trip, with a 6 mile day hike to climb a local peak. Each person is responsible for providing their own equipment, clothing, and food.
Completion of this training is recognized by the award of a special patch.
Prerequisites: Scouts and Venturers must:
be at least 14 years old
be a minimum of First Class or the Venturer equivalent
have earned two High Adventure awards.
Note: A maximum of four participants per Unit is permitted.
Fees: A nominal fee is charged.
---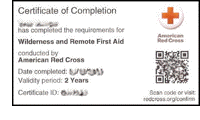 Youth at least age 14 can take Wilderness and Remote First Aid.
Wilderness and Remote First Aid (WRFA) is the assessment of and treatment given to an ill or injured person in a remote environment where definitive care by a physician and/or rapid transport is not readily available. This course goes far beyond what you may know as "first aid". While it contains substantial medical information and teaches skills required for medical emergencies in the wild, the deeper purpose is to train participants to manage acute situations.
Designed for youth and adult Scout leaders and anyone who works or spends time in remote environments, this course teaches advanced skills to be used in emergencies when help from professional first responders may be far away. Scouts and Scout leaders will likely find this the most valuable program they'll ever take.
WRFA is based on the Boy Scouts of America Wilderness First Aid Curriculum and Doctrine Guidelines (including Philmont and the other High Adventure Bases).
Completion of this training provides a two year certification through the American Red Cross or the Emergency Care and Safety Institute. Completion of this training is a requirement for earning the High Adventure Leader Award.
Prerequisites: Participants in this training must be at least 14 years old and hold current adult CPR/AED certification.
Fees: A nominal fee is charged.